LET OUR CARDS DO THE TALK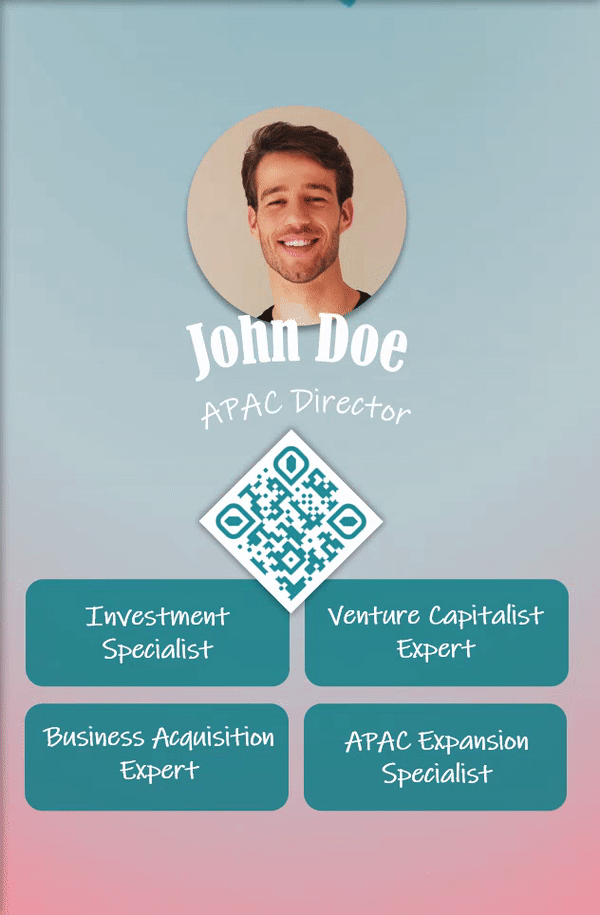 FREQUENTLY ASKED QUESTIONS
How do I use this Digital Name Card?



Our Digital Name Card is a Video and can be easily stored in your phone's folder. When you meet someone, simply access this folder and flash the video to your prospect. They will scan the QR code in this Digital Name Card and get access to your online profile.

This profile will include your email, contact, websites, and social media. You may scan the QR code on our sample name cards above to understand how it work. The 2nd Video above explains as well.




What will be included in this Digital Name Card if I purchase today?





You will receive a Digital Name Card and a QR code just like the samples we shown above. You will also receive an Online profile page. 1 initial revisions will be included.






What will I expect after payment is done?





You will receive an email with detailed instructions to communicate your name card's expectation. After receiving your request form, our team will contact you to clarify the details before crafting your digital name card.






What customisation can I expect from this Digital Name Card?





You may send us a video about your product, office, company, people, and we can integrate into your chosen design layout. If you need video services, additional charges will be required.






Do you accept Corporate Bulk Purchase?



Yes, simply email us at welisten@wedevelopment.sg and our customer service team will get in touch shortly.




Do you accept refund?





Yes, we accept refund up to 50% of the initial payment since the platforms that we used charges transactional fees and further admin cost is required to communicate the refund procedures.





WHAT OUR CUSTOMERS ARE SAYING
Thank you for creating such a beautiful name card. Very useful and have already recommended a few friends.
Surely, a neat solution to followup after an e-meeting. Definitely have increased my branding. Thank you!
A great name card to warm up any conversations. My clients were like "Wow, this is interesting! Let me try!"
This is so convenient with all my digital profile and webpages be packed into ONE single card!
GET YOUR DIGITAL NAME CARD TODAY!
Comes with 1 Customisable Video Name Card and an Online Profile